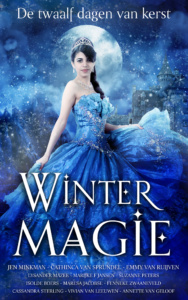 PUBLICATIEDATUM NOVEMBER 2022
---
On the first, second, third (etcetera) day of Christmas, my true love gave to me…
 Twaalf Nederlandse auteurs zijn "allen tezamen gekomen" om fans van young adultverhalen te voorzien van genoeg leesvoer voor de hele kerstperiode! Voor alle twaalf dagen van kerst is er een verhaal te lezen. De verhalen bevatten zonder uitzondering een sprankje magie, of het nu om een magische liefde, een midwinterfeest, een kerstboomboerderij, een mysterieuze sneeuwkoningin of een afgelegen dorpje in Canada gaat. Laat jij je ook meevoeren door deze wintermagie?
Voor mensen die het liefste de hele kerstvakantie opgekruld bij het haardvuur een boek lezen!
Paperback kopen? klik hier!
__________________________________________
ISBN: 9789493265301
prijs: 18,95
uitgave: paperback en eboek