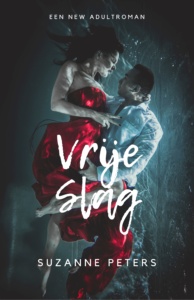 PUBLICATIEDATUM JUNI 2023
---
Tijdens de housewarming van haar nieuwe huisgenoten leert Debra Lucas kennen. Ze ziet hem meteen zitten als 'friend with benefits'. Meer zit er wat haar betreft niet in met haar hidradenitis suppurativa. En wie wil er nu een vriendin met een huidziekte?
Paul verveelt zich tijdens de zomerstop van het waterpoloteam. Wanneer hij de vrolijke Debra ontmoet, voelt hij meteen iets voor haar. Maar Lucas, zijn teamgenoot, lijkt hem voor te zijn. Zijn Debra en Lucas voor elkaar gemaakt, of kan Paul een veel belangrijkere rol in Debra's leven spelen?
Vrije Slag is een zelfstandig te lezen vervolg op Van Slag.
_________________________________________________
ISBN: 978-94-93265-49-3
prijs: 17,95
uitgave: paperback, eboek